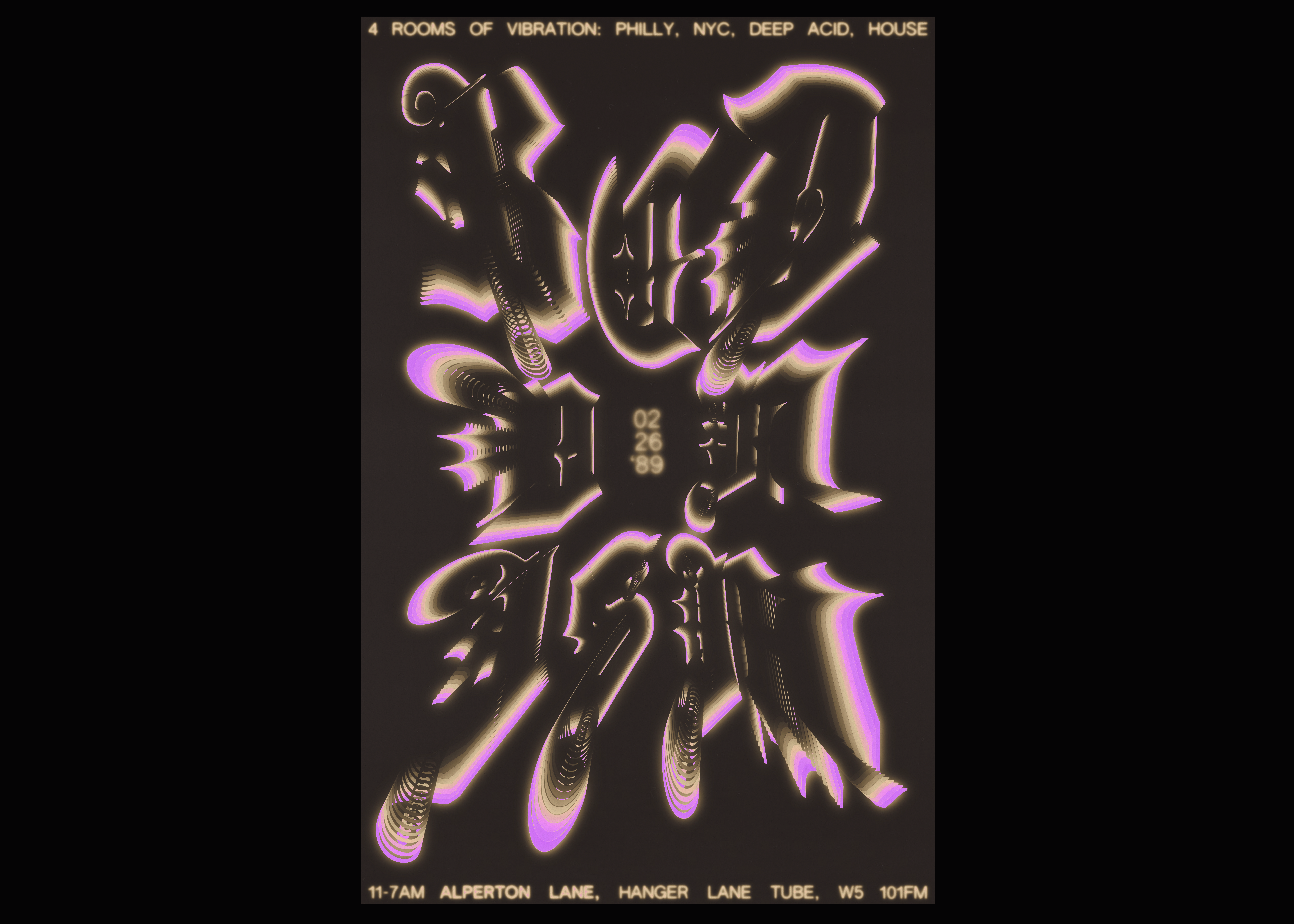 2022 — Design + Illustration


Hedonism
Poster (1 final, 5 iterations)
Semi-Gloss Cardstock
11 x 17"



In this school project, nine unique posters were integrated to produce a single, multi-layered event poster. Each iteration adhered to specific methodologies, addressing the depth required to convey the perception of an event poster. This included the use of illustrations in one, adopting a representational approach in another, and even working in complete opposites for a few.

Inspired by one of the earliest UK raves known as "Hedonism," the goal was to capture something ephemeral and equally vibrant.

To create the final composition, careful curation of ideas and elements from different iterations was undertaken. An inkling from one composition was incorporated, another was slightly disregarded, and the styling from one with a lasting impact was retained. All of this cross referencing and combining led to the sole final product, presenting a cohesive body of work that is concise in its intent and stylized when necessary.







︎︎︎︎︎︎︎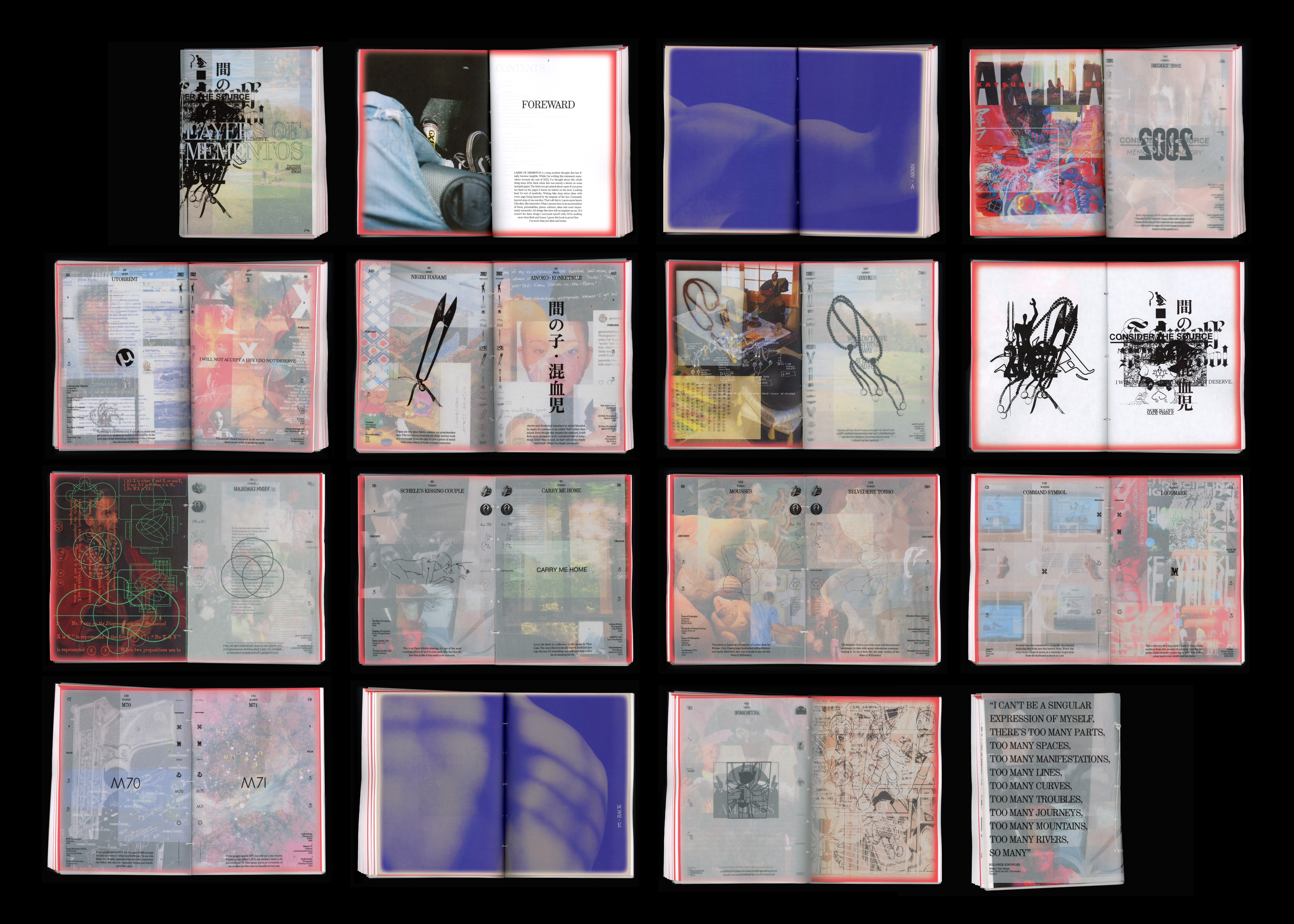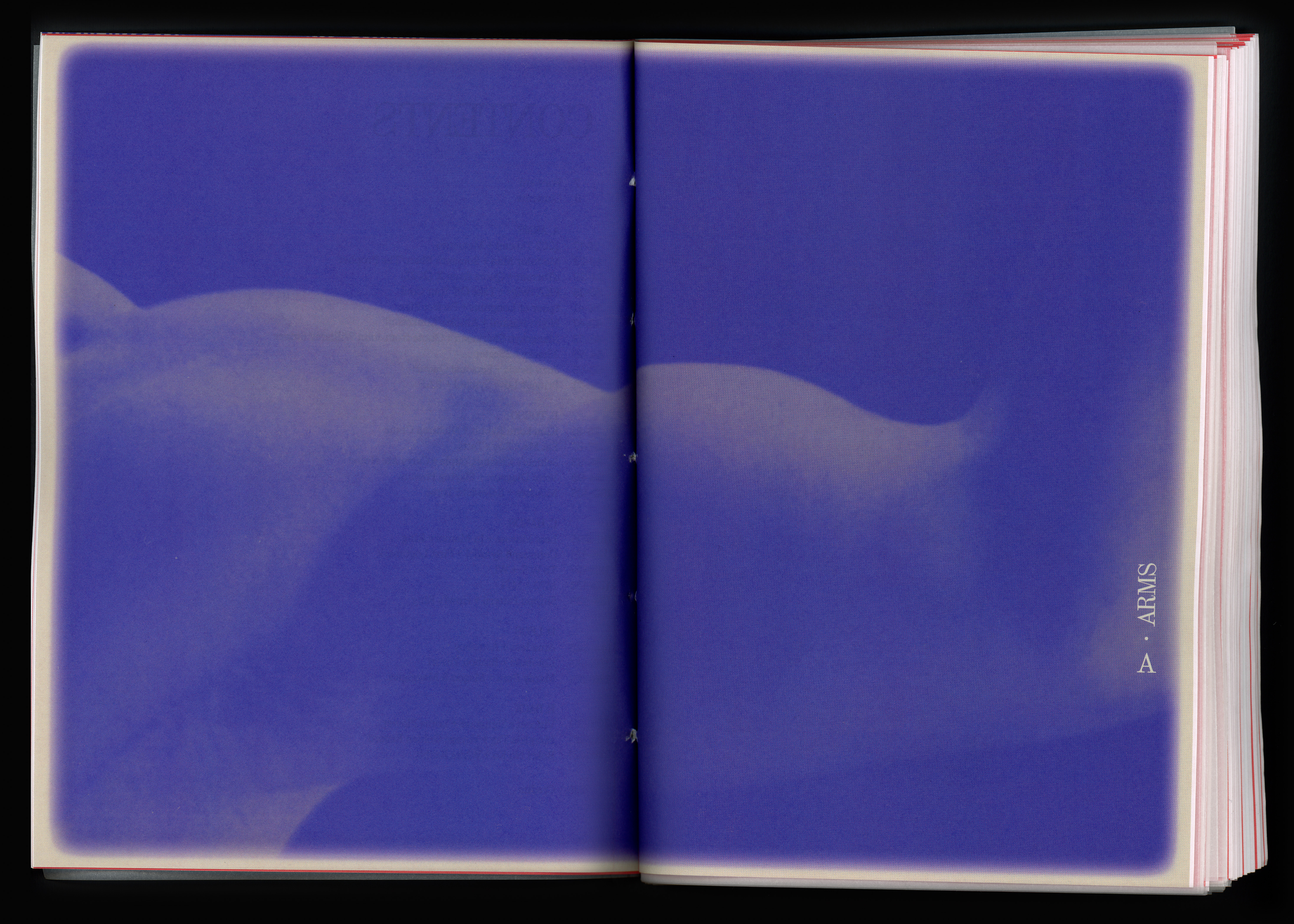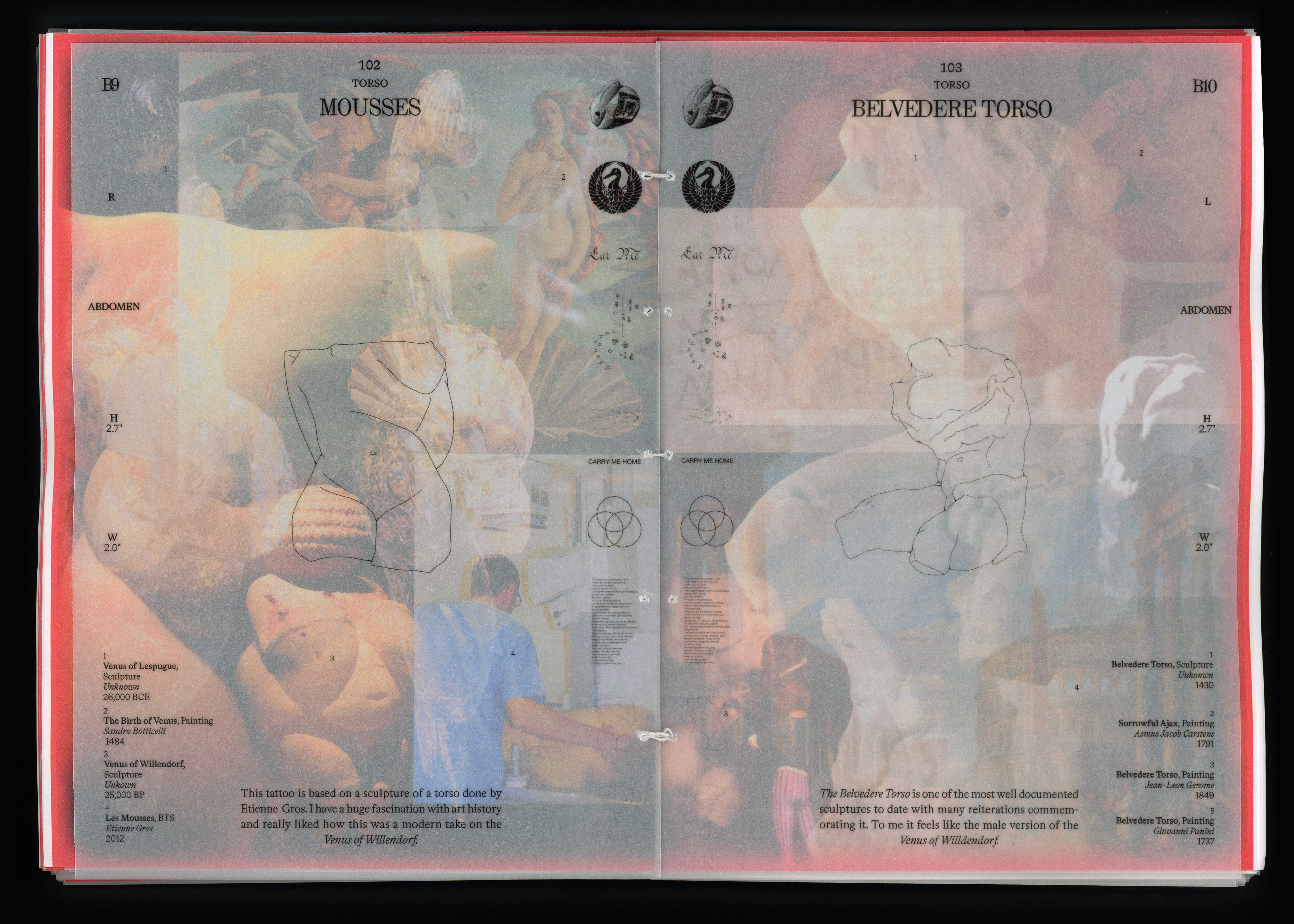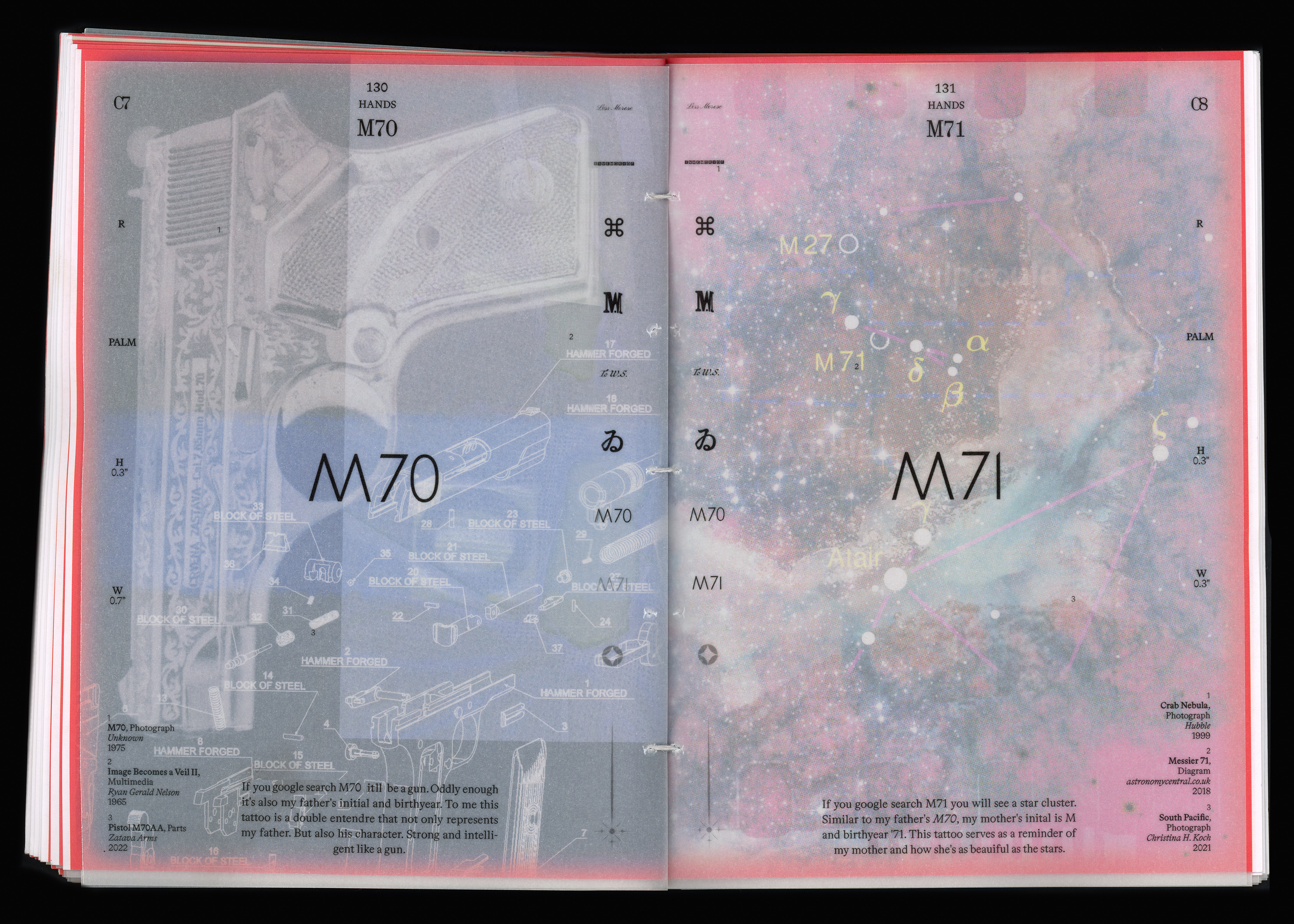 2022 — Design + Art Direction + Book Binding


Layers of Mementos
Hand-Stitched Book (240 pages)
60# Uncoated Text + 80# Matte Transparent Paper
6.5 x 9"



This personal project is a visual representation of my tattoo journal, incorporating personal quotes, autographs, and symbols. All of these snippets have been meticulously documented over the years, allowing for all the impulsive tattoo sessions that are soon to come.

Given the delicacy of this project, the approach was to articulate each tattoo through the means of a collage, an illustration, and a written explanation. As the driving concept is based around skin and layers, transparent page overlays were utilized for each collage. This technique was essential in signifying the depth beyond the surface. As each tattoo carries a story, a set of images, and, most importantly, a reason.

Between 240 pages, this book embodies all aspects of myself — from the skin to the cells.







︎︎︎︎︎︎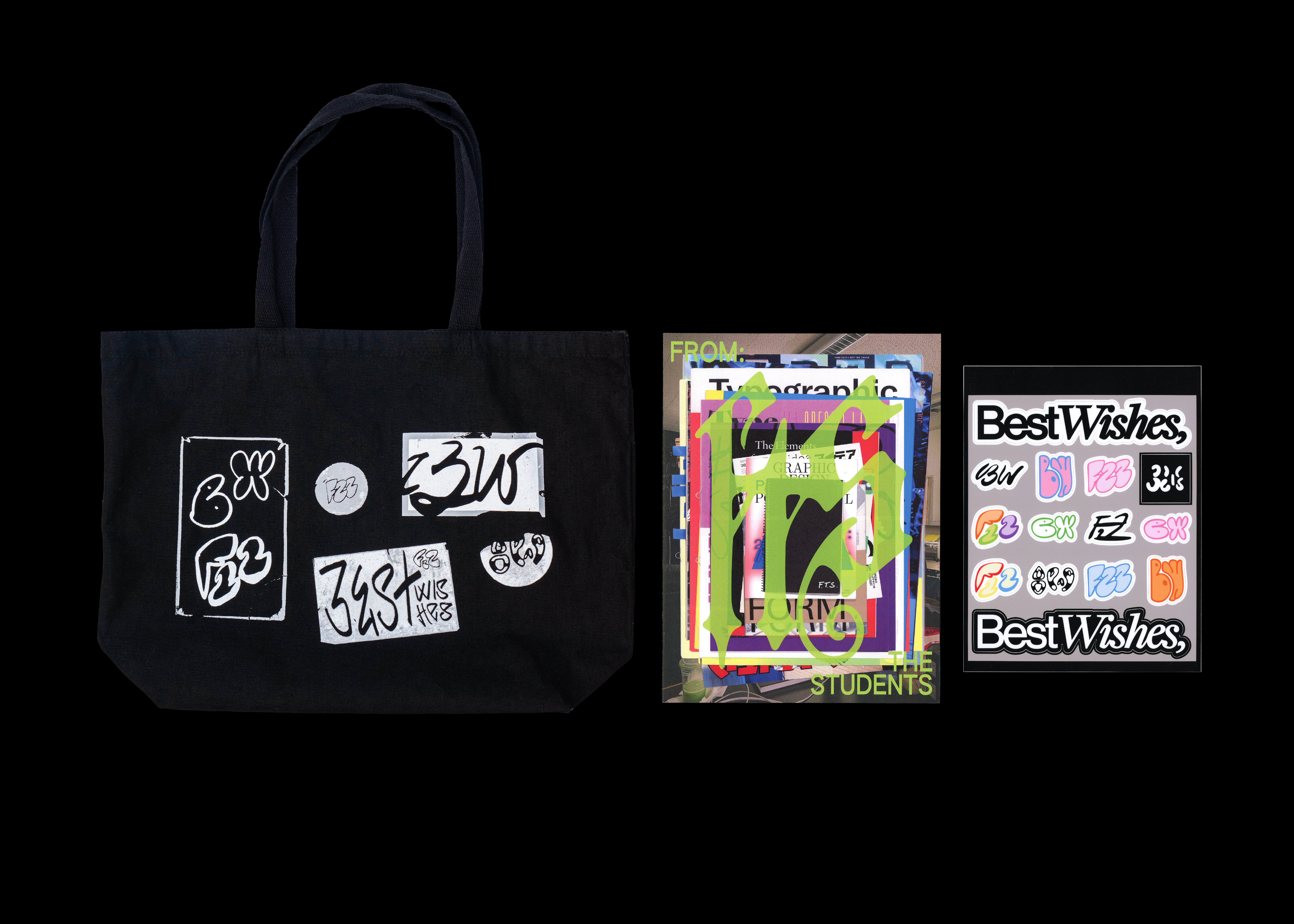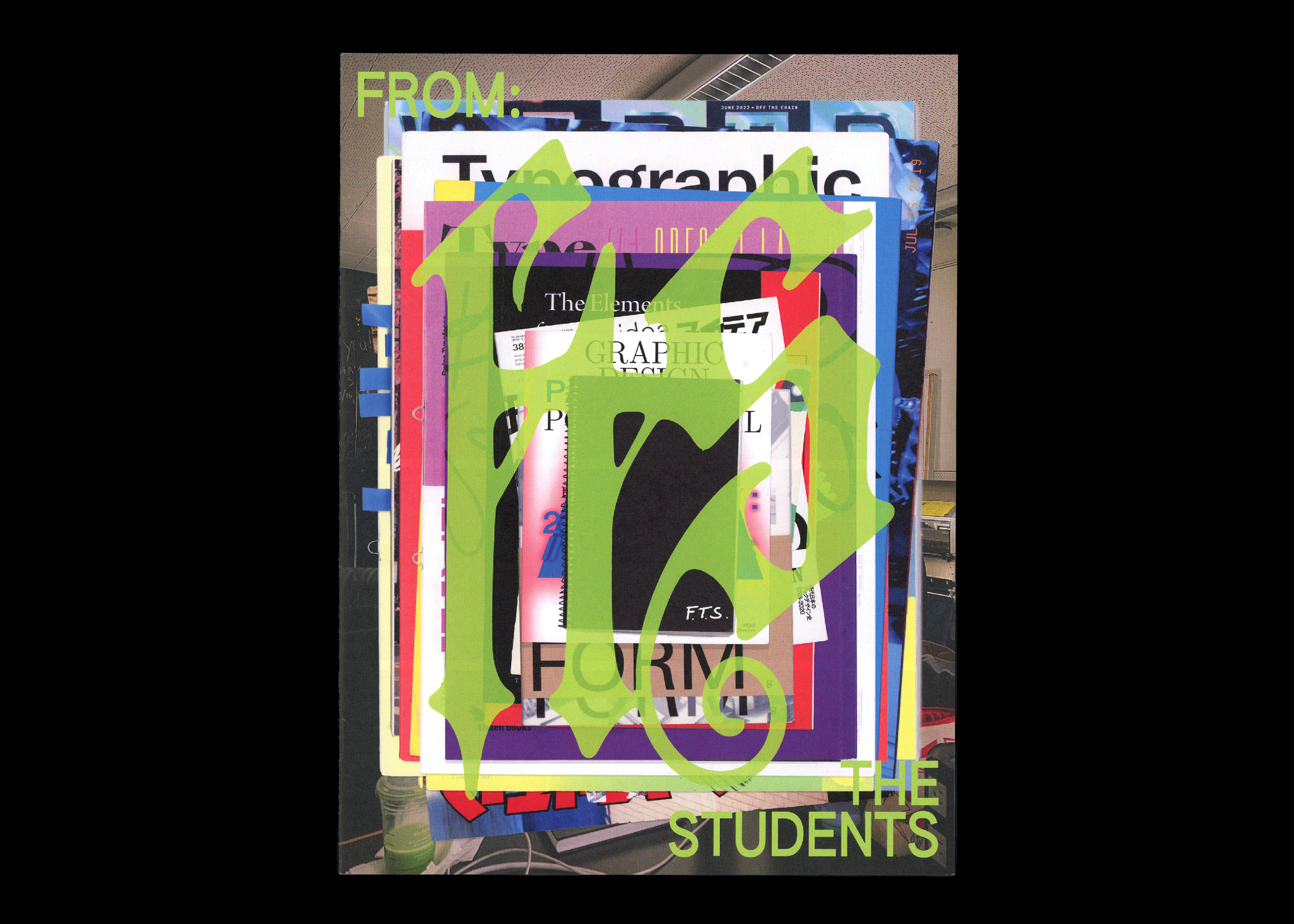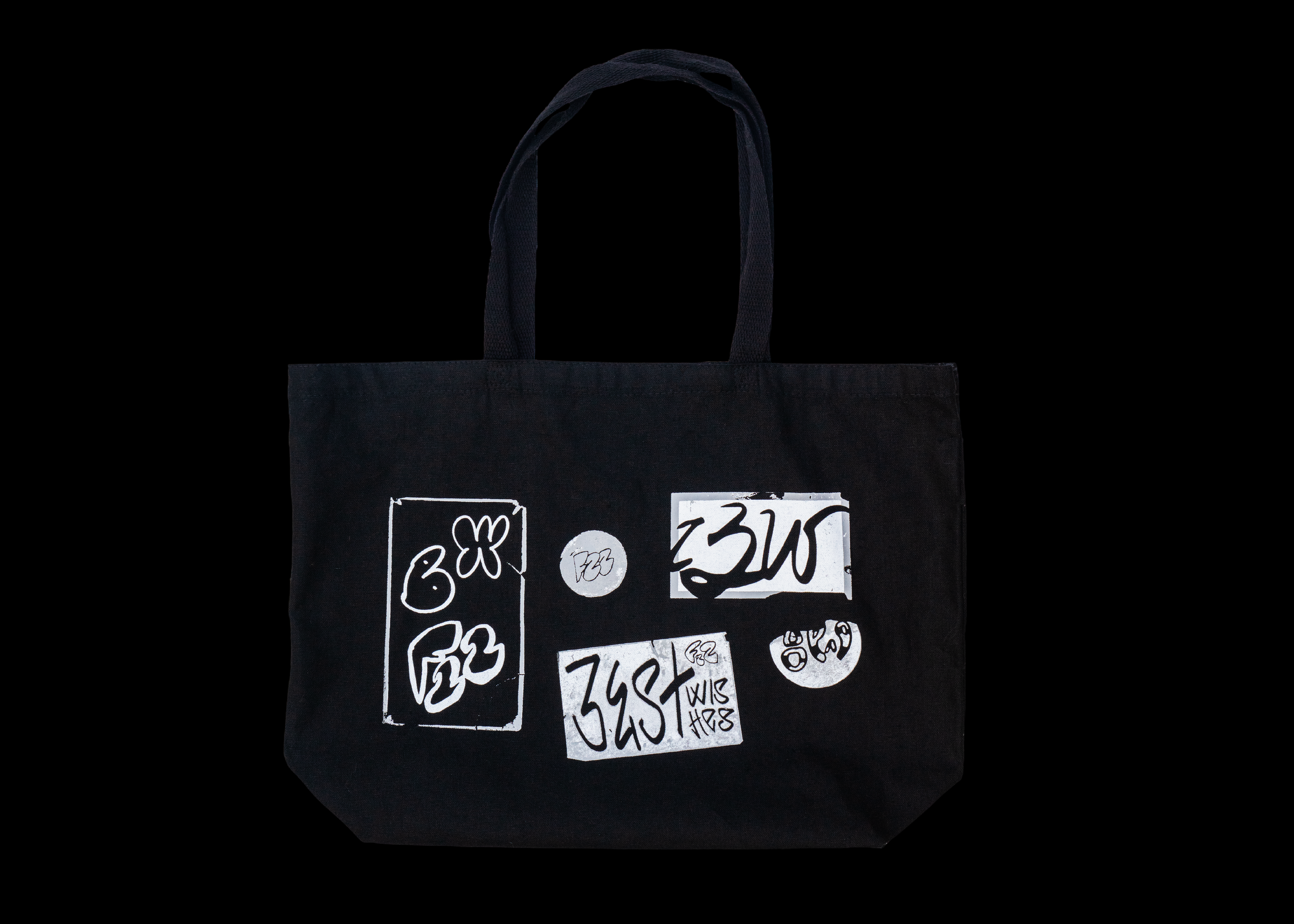 2022 — Design + Art Direction



Senior Show 'Best Wishes' Merch (3)
1. Best Wishes Tote Bag
Black Dyed Canvas Tote
15 x 19"

2. F.T.S. Zine (16 pages)
60# Uncoated Text Paper
9 x 12"

3. Sticker Sheet
Vinyl Stickers
8.5 x 11"



In December of 2022, the school of CSU Long Beach held a final graduating BFA senior show titled

'Best Wishes'

. I was brought on to the team as the Art Director for the merch line. During this time a two-sided duo-toned canvas tote, a 16-page zine, and a sticker sheet were designed and sent to the printers. This merch line was created to embody the Best Wishes art show. Uses of a wide color palette and an organic stylization were essential to embodying a group of students that are larger than life.

'From The Students' (F.T.S.) Zine made with Nadine Nazareth.


︎︎︎︎︎






2022 — Design + Art Direction


IBM Plex Mono: Type Specimen
Spineless Booklet (36 pages)
80# Uncoated Text Paper
8.5 x 11"



This school assignment involved creating a book that showcased a typeface in all its glory. Initially, the choice to work with IBM Plex Mono was motivated by its distinctive style and functionality. However, when delved deeper into the essence of IBM Plex, a clear direction emerged.

IBM Plex

was originally conceived not just to represent IBM but also to symbolize the connection between humans and machines. This unique perspective on type and technology introduced a grand concept that became the backbone of this project. Spanning 36 pages without a spine, this book centers on a series of tests that explore the dynamic between humans and machines. As the narrative unfolds, the relationship between these two worlds contrast, intersect, and even trade places, sparking questions about the nature of what is reality.

The IBM Plex Mono: Type Specimen captures the intricacy and elegance of the typeface while weaving a profound narrative about the interplay between the organic and the created.


︎︎︎︎







2020-22 — Design + Illustration


Undergrad Posters
Various Posters
Semi-Gloss Cardstock Paper
11 x 17"



To take a break from learning conventional design in the classroom these one-off posters were created. Each aimed at making something chaotic just as visually intriguing.







︎︎︎






2021 — Design + Art Direction + Photo Illustration


22 West Magazine: Fear Issue
Magazine
60# Coated Text Paper
8.3 x 10.7"



I was brought onto the team as the Art Director of the magazine in August of 2021. Much of the work and time spent at 22 West was dedicated to laying out pages and creating a handful of photo illustrations. A significant portion of time was devoted to learning to efficiently place type. As each 32-page magazine was produced in just three days. Therefore, working quickly and resourcefully was essential. Between each issue, a new personality emerged, whether in the headlines, the columns, or even the overall layout.

shown above is the May 2022: Fear Issue.






︎︎






2020 — Design + Art Direction


Galería OMR (Re)branding: Concept
Various Applications



For this school project, I chose to rebrand an art gallery situated in Mexico City with the aim of crafting an approachable and appealing brand identity.

Throughout the process, spanning from the logo to apparel, the primary objective was to convey a more welcoming tone, departing from the original high-brow branding. The vibrant red-orange color of the logo provides a nice striking contrast across various applications. Additionally, the utilization of a poster template played a pivotal role in creating seamless opportunities for brand partnerships, solidifying the OMR brand's association with any upcoming exhibition.







︎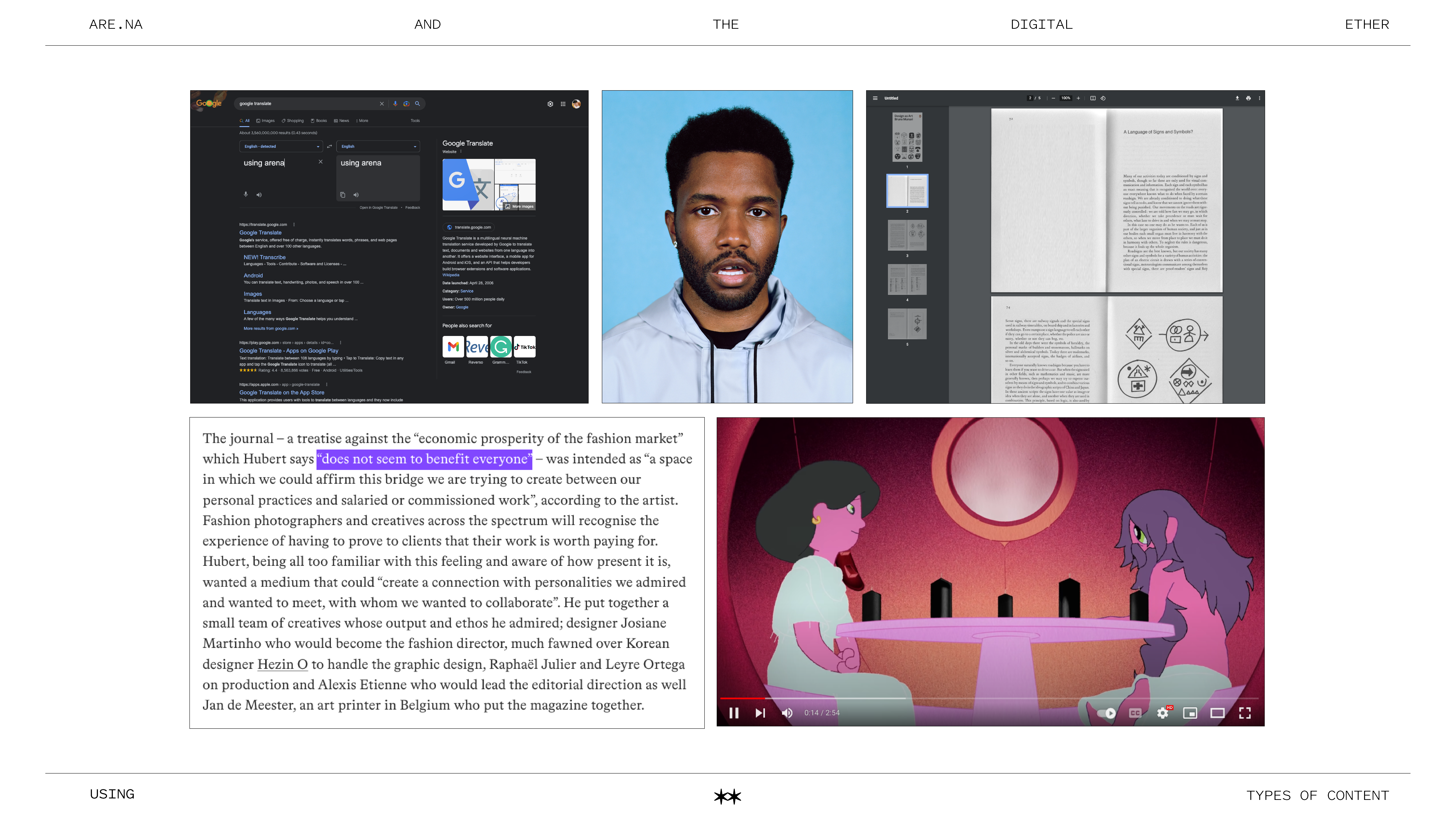 2022 — Design + Art Direction


Are.na and the Digital Ether: Talk
Presentation
I gave this presentation in November 2022. To spread the word about
Are.na
and show others on campus the sheer power of this online platform.
Are.na
is a media platform/company/site dedicated to exemplifying digital content. Primarily used as an alternative to the maximalist Pinterest landscape. Being adored by many designers and creatives. I had reached out to CSULB VCDA sometime in August of 2022 to set up the event; come some months later I had a lovely 25-person audience come out to hear me babble.
Event Bio:
"We will be navigating the online world with the power of Are.na—a content collecting service made for the designer, the digital archivist, and the creative. It is this relatively new online service that provides the ability to collect content. It's an open ended space that is free of ads, with a distraction free design, no algorithm, solely meant to preserve, find specific content, and connect with other designers.
" — from CSULB VCDA
IG post
In collaboration with CSULB VCDA
---
︎
thank you for visiting
jakewinkle.com
.
.
*
.
.